Glow Worm Kayaking in Rotorua New Zealand is a unique way to view the magical fungus gnat creature commonly known as the glow worm. Paddle Board Rotorua provide small group "non touristy" kayaking tour options to their customers. There is a daytime glow worm kayaking option on Lake Rotoiti which is suited to those who want to enjoy the sunshine and visit a small family of glow worms inside a cave dark enough for the glowing creatures to be visible in the daytime. The sunset/night time glow worm kayaking option is one of the best ways to see the amazing glowing formations as the darkness enables a more remarkable view of the constellation like glow worm families.
Daytime Glow Worm Kayaking Tour
The lake Rotoiti tour is perfect for those looking to view glow worms in the day time, enjoy the warmer midday temperatures and see the local scenery of the Okere Falls region. Expert kayaking guides and easy to use kayaks are provided with complimentary pick-up and return transfers provided from the Rotoura I Site at 1167 Fenton Street Rotorua,
For more information or to book this tour call 0224279136 / 0276694410.
Sunset / Night Glow Worm Kayaking Tour
Enjoy the evening as the sun sets on an amazing scenic kayak tour as you are guided to an incredible cavern home to a galaxy formation of glow worms. One of Rotorua's premium experiences that you will never forget, this tour experience speaks for itself. The sunset, adventurous night time paddle and incredible glow worms must be experienced to be understood.
Glow Worm Tour Highlights
Daytime or Sunset/Night Options

Incredible Glow Worms

Star Gazing (if sky is clear on sunset/night option)

Only 15 minutes from central Rotorua

Small Group Tour - Not mass tourism
Description
The Rotorua Glow Worm Kayaking Tour is simply one of the best experiences to do in Rotorua. Only a 15 minute drive from Rotorua central city this kayaking adventure allows you to see glow worms in Rotorua without needing to drive a long distance to Waitomo Caves. The experience begins with a complimentary pick up and return transfer from either your central Rotorua accommodation or the Rotorua I Site at 1167 Fenton Street, Rotorua. A short drive of approximately 15-20 minutes leads you past to the lake to begin the adventures. Once at the Lake your friendly, professional local guide will unload all the equipment for your group and get you kitted-out for the kaykaing experience. Sound safety and instruction briefings follow as you learn to paddle or hone your existing skills. No kaykaing experience is required - with the quality and skill of the instructors combined with the stable and easy to use sit on top kayaks, most people find the kayaking relatively easy. An amazing time then ensues as you paddle your way along the shorelines of either Lake Rotoiti or Lake Okareka as you are guided to the magical glowing caves.
This tour is one of the most unique and magical ways to see New Zealands glow worms. Local to Rotorua this experience is a must do and is a great way to see glow worms while enjoying the many other amazing sites within the Rotorua Lakes District. Book this amazing glow worm tour NOW. Due to popularity we recommend booking in advance as on-the-day bookings sometimes miss-out.
More Information
NO EXPERIENCE IS REQUIRED

KAYAKING IS GENERALLY AN EASY ACTIVITY FOR MOST

WE HAVE AN APPROVED NAVIGATION SAFETY LICENSE FOR EVENING/NIGHT OPERATION

WE PROVIDE PERSONAL FLOTATION DEVICES FOR ALL PARTICIPANTS

THE PADDLE DISTANCE IS NOT FAR AND ONLY REQUIRES LOW TO MODERATE FITNESS
This is one of our top selling tours.
We provide a shuttle service to and from your Rotorua accommodation or the I-site in central Rotorua. Allow 3 hours for the round trip The maximum number of customers per tour group is 7 which ensures a relaxed personal tour! We will do our best to get in touch well in advance if the weather looks bad, unfortunately sometimes mother nature wins. If our regulations allow us to operate then we will operate. A weight limit of 105kg applies. There is an age limit for this tour. The minimum age is 10 years old. 10-17 year old persons must be supervised by a responsible adult (18 or over).
Tours run daily, departing:
9am and 1pm (Daytime Lake Rotoiti Tour)
7pm Sep, Oct, Nov, March (Sunset Night Tour)
7:30pm Dec - Feb (Sunset/Night Tour)
5pm April - Aug (Sunset/Night Tour)
Allow 2.5 - 3 hours for the round trip
Complimentary pick up and return transfer provided from Rotoura I Site at 1167 Fenton Street Rotorua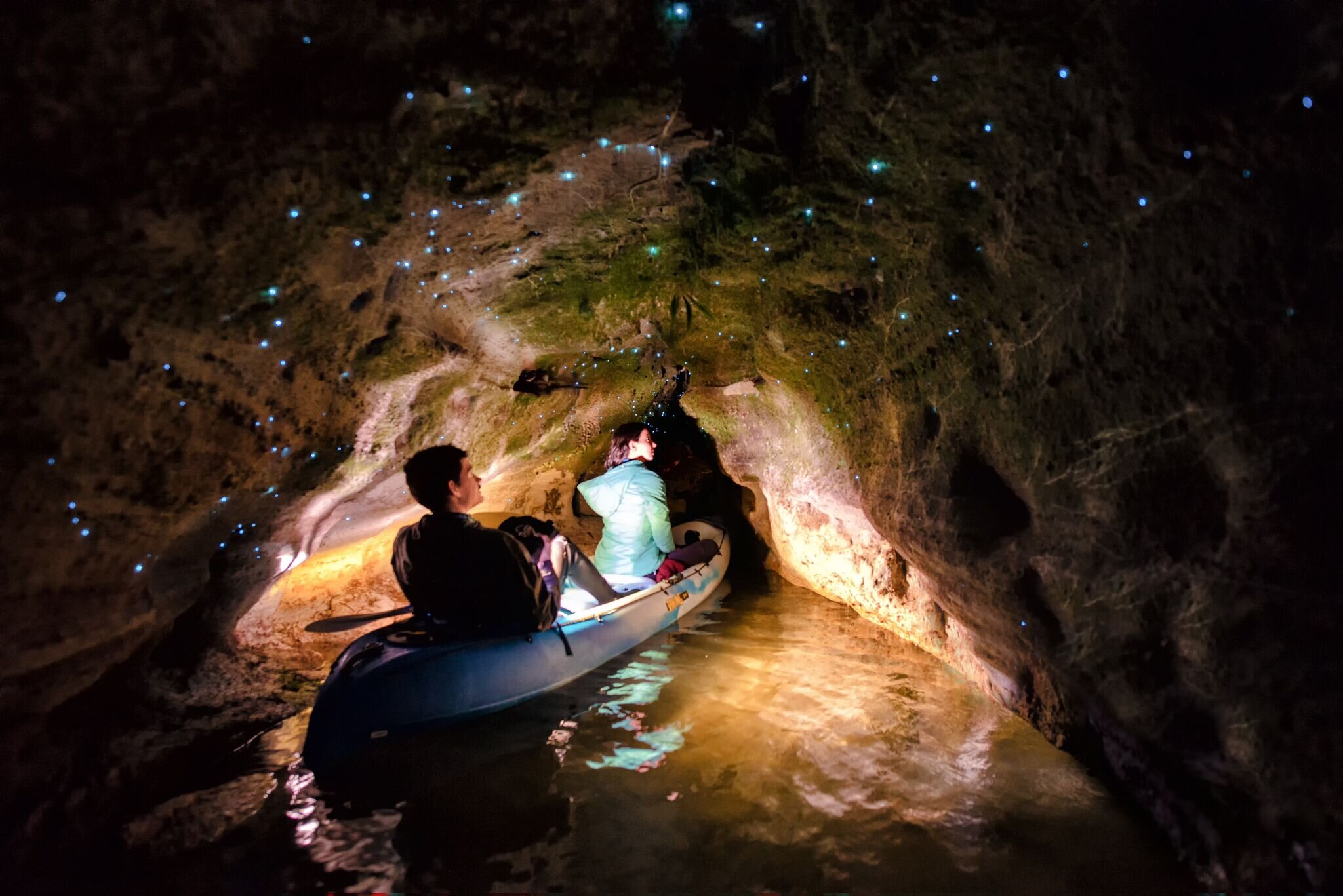 Glow worms are the larvae of a fungus gnat fly. They glow to attract food and to attract mates.
Glow Worm Facts
Glow worms have silky mucus like sticky threads that hang from the glow worm that catch insects such as mosquito's and flies which are food for the glow worm to eat.

The glow worm's tail glows because of bioluminescence created by a reaction of proteins within the digestive system of the worm.

The Glow Worm is the larvae of a fungus gnat fly.

The Fungus Gnat Fly lives for a short period of time (2-3 days) however its larvae, the glow worm, lives for around 6-9 months before the metamorphosis into the adult fly stage of its life cycle.

The life cycle of the Fungus Gnat has four stages, the Egg stage (2 weeks), the Larvae stage (6-9 months), the Pupae stage (2 weeks) and the Adult Fungus Gnat Fly stage (2-3 days)